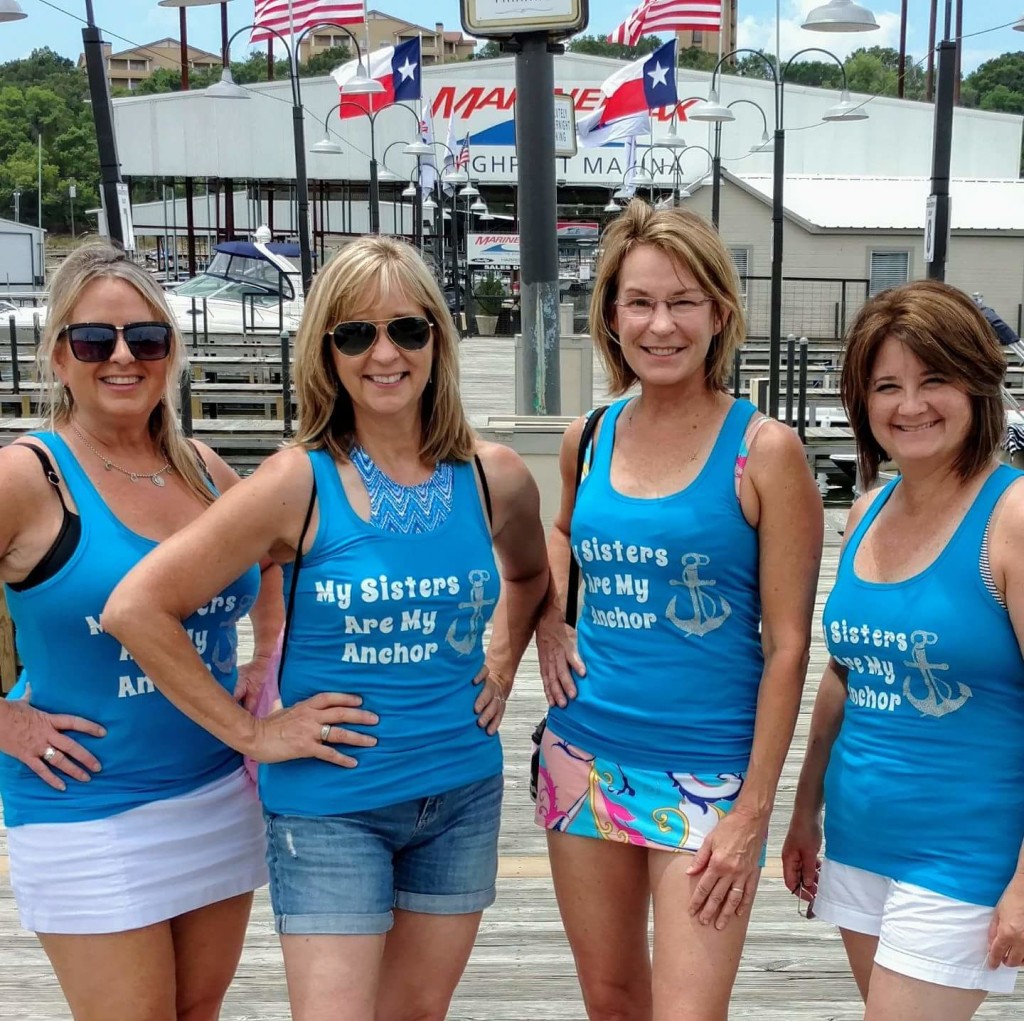 l to r: Jacqui (#3), Janet (#2), Susan (#1) and Kathy (#4)
"In the sweetness of friendship let there be laughter, and sharing of pleasures.

For in the dew of little things the heart finds its morning and is refreshed." ~Khalil Gibran



Echos of their voices and images of their faces mark my memory.
Janet pouring her light-filled "Good morning!" into the room followed by porch time, imbibing in freshly brewed coffee and warbling birds dancing around the feeder.
Susan delivering levity, the corners of her mouth slightly curled into her artful smile, one eyebrow teasingly lifted as she shared insights on life, work and everything in between.
Kathy's large brown eyes like a warm welcoming pool, and flirty long lashes beckoning as she shared bits of her soul.
Uniting on the Shores of Lake Texoma

Recently, we held our second annual Barrett Girl Sisters Weekend at Rob's and my North Texas cabana in Gordonville, Texas, on the shores of Lake Texoma. My three sisters and I gathered for three days to commingle in light, conversation and hope, sharing dreams, goals, fears and pain. We laughed, shed tears and sat together, peacefully.
Sisters weekend, and the months leading up to it renewed friendships among and between four girls in their forties and fifties whose lives organically had strewn across three states and hundreds of miles–separation and time creating light fissures in our relationships.
The caravanning nature of our weekend began with Janet (St. Charles, MO) flying and Kathy (Chillicothe, MO) driving into Tulsa, OK. They spent the night with my sister Susan and her husband, Jim, whose white-glove treatment included shrimp and steak, a wonderful start to their weekend!
The next day, all three girls arose early to drive together into Gordonville. The energy upon their arrival was immediately palpable. We luxuriated in a chicken salad and cosmopolitans on our deck and were exhilarated when rain began to lightly drop after which we regrouped under the roof of the Morgan building.
We delivered several of Susan's Lake Texoma-, people-, and pet-focused oil paintings and prints to Pelican's Landing where the owner is now displaying them for sale. We welcomed Kathy's new line of organic foaming soap, bug spray, candles and more into our lives; we implemented a sky-blue serving tray and nautical basket into our daily mealtime festivities, and we learned a new card game, thanks to Janet's teaching.
We witnessed the beauty of nature, celebrated birthdays, rode with the top-down, wound through the Texas prairie to find a Catholic church (Janet and Kathy), shopped for whimsy, took photos of chickens, ate salads, barbecue and cake, sipped tasty beverages and of course, motored across the lake on our Four Winns, Pilar.
When I think of my sisters now, I am grounded in confidence that:
Our youthful history together still matters;
Our lives today, while geographically separate will continually be shaped by the time we shared growing up and living together, and will perpetually be fortified by the new stories we create and swap.
That I am stronger and more loved with my sisters by my side.
I learned about the origins of Kathy's Catholic faith, gained a deeper understanding of nutrition and our bodies through a.m. discussions with Janet, was edified by Susan's unique vantage point on entrepreneurism and oil painting, and realized that my 5th-7th-grade personal diaries still have meaning, probably more so today than when I wrote them.
There is much more I learned, many more conversations that inscribed lasting memories on my heart and soul and actions I witnessed. Some which are so private, they will never be shared in a blog. Some which I'll remember fondly later, and weave into conversations and writing.
These weekends change me, and I am determined to make note while the memories are fresh, to cherish the time, to actualize the learnings and to be swept up again, during our next annual get together.
—
Please enjoy a few pictures below at the end of the post, captured during our gathering last weekend. I hope they give you a glimpse of the love and joy we felt.
A special shout out to my wonderful husband, Capt. Rob for being so present throughout the weekend, and for preparing a special birthday meal for us (honoring all my sisters, but particularly for Susan whose birthday fell on the Saturday of Sisters Weekend!). Another shout out to Tara Womack for the stunning beach-scened cake she designed that captured the favorite colors of all four sisters, our motto, "My Sisters Are My Anchor," and was baked with love, as she always does.
Moreover, we appreciated the beautifully handcrafted ankle bracelets and earrings designed by my dear friend and sister from another mother, Dawn Bugni. Hat tip also to Phil Wahl, a colleague of Rob's at North Texas Marine and friend of ours who has participated as co-captain now on both annual Sisters Weekends. Finally, the matching t-shirts that North Texas Vinyl created for us cemented our message; we proudly wore them during our Sunday outing to the lake and to lunch at Highport Marina.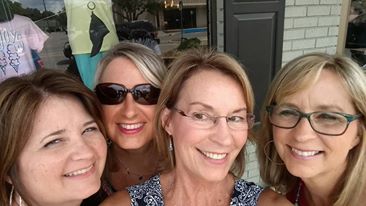 My Sisters and me in Whitesboro, TX–Shopping Day!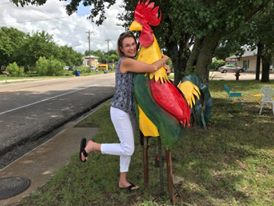 Susan Hugging the Rooster! (in Whitesboro, TX)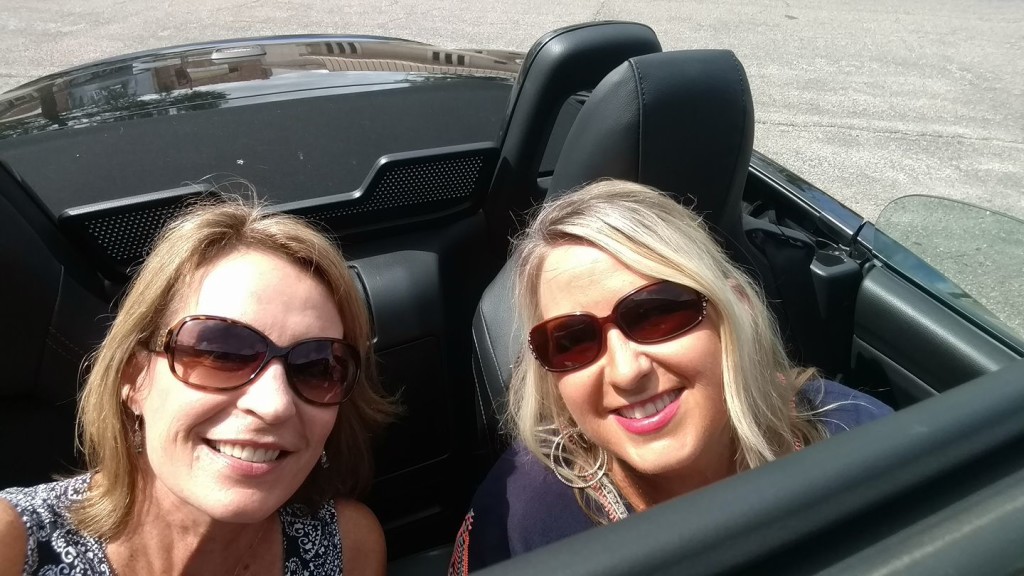 Susan and I Departing for Home From Whitesboro, Top Down!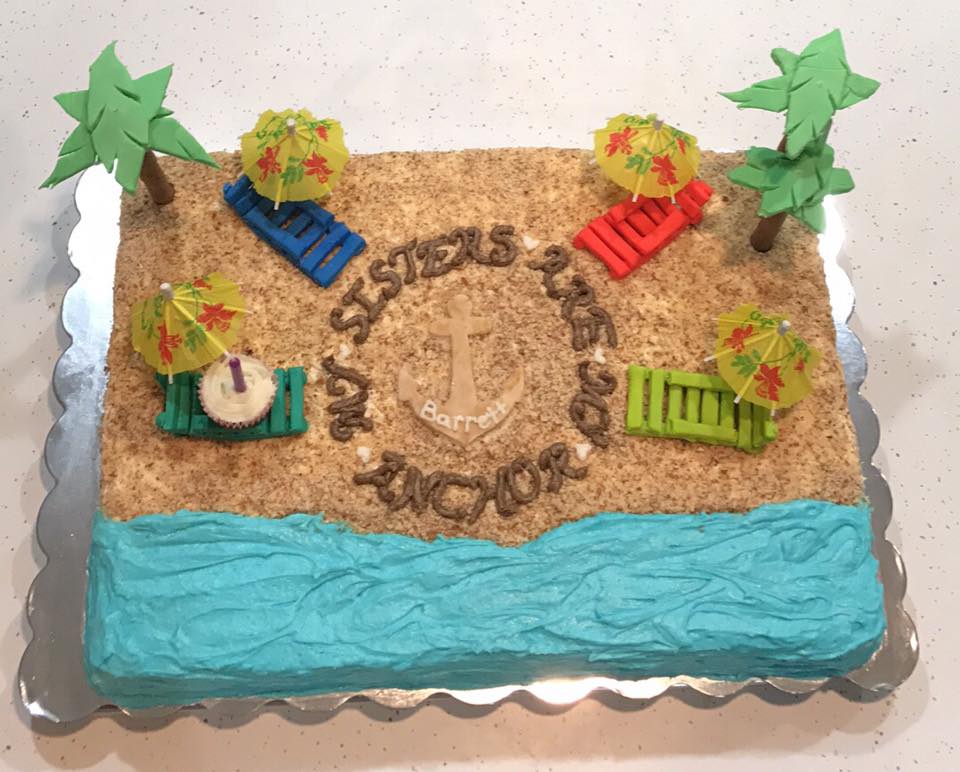 Stunning Birthday Cake–Celebrating Susan's 57th! (and honoring everyone's special day!)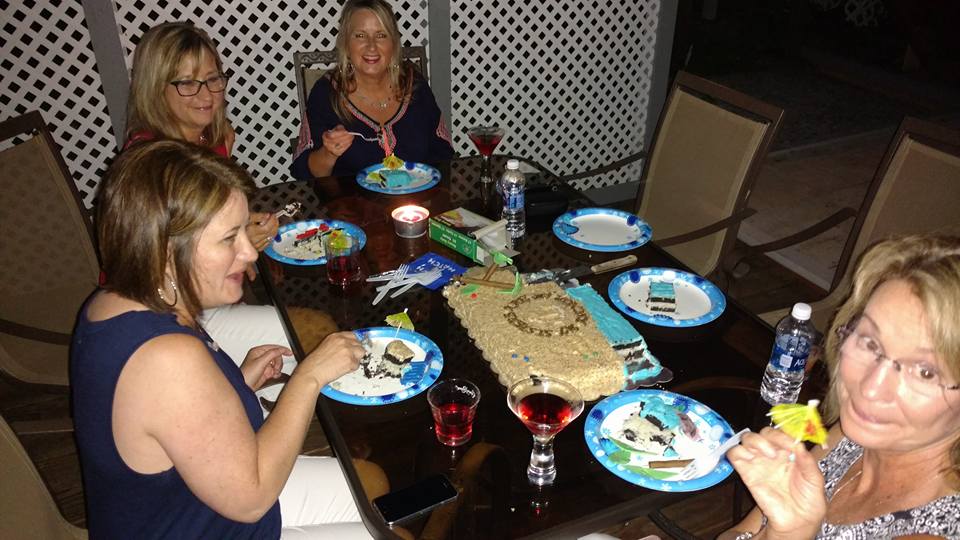 Yum Yum! (And, boy we had fun, cake AND cocktails!)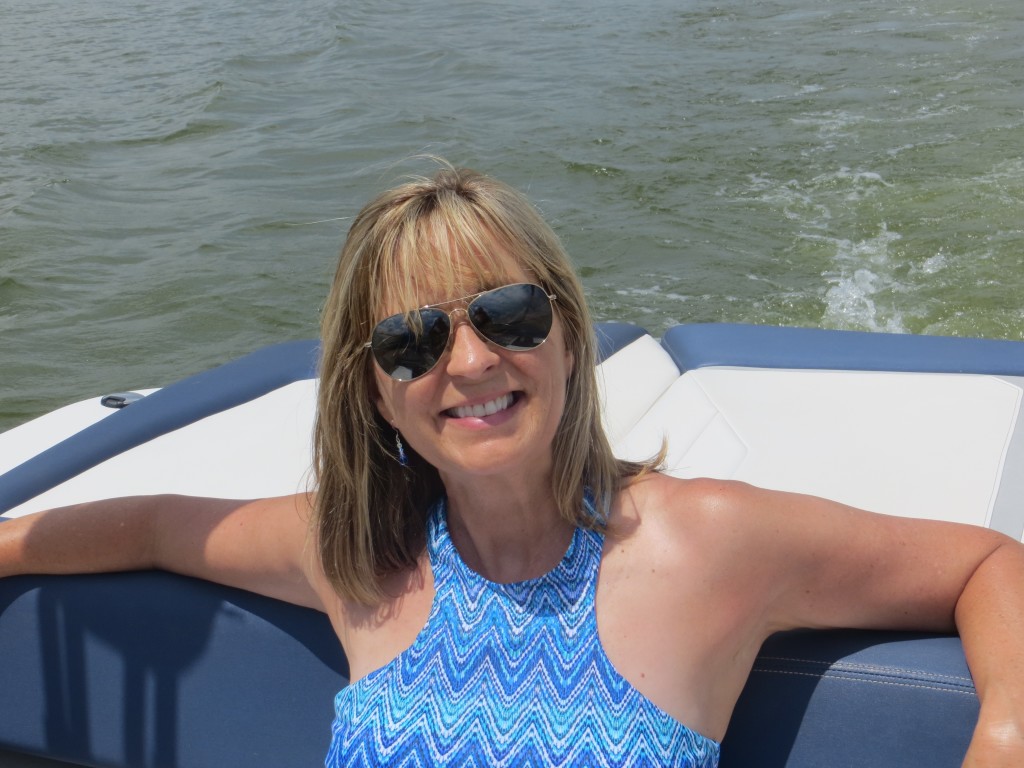 Boating Day – Yay! And Janet's Usual Jubilance on Display!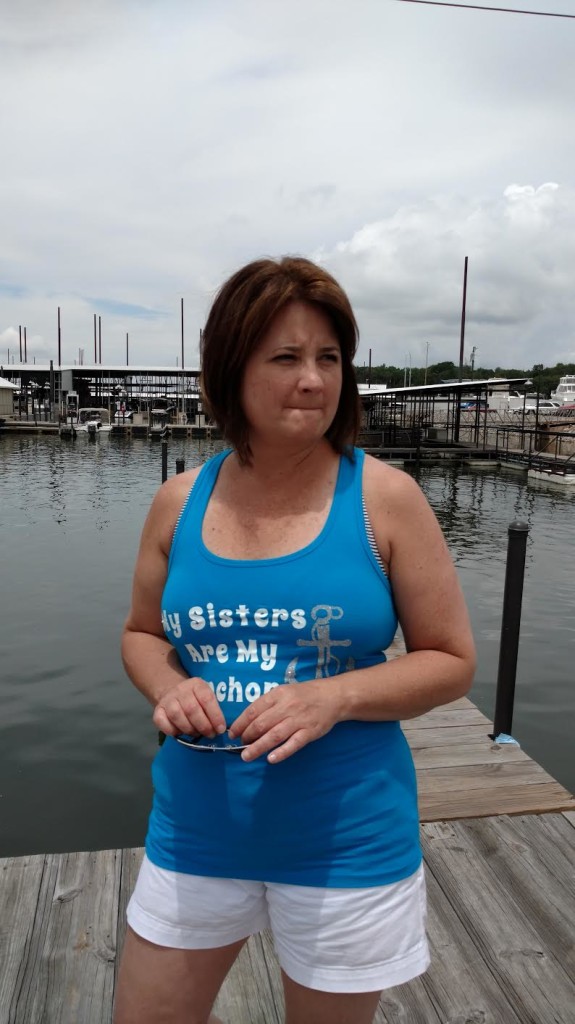 Calm + Cool, That's How I Would Describe My Baby Sister, Kathy! (aka, Kathleen, hee-hee)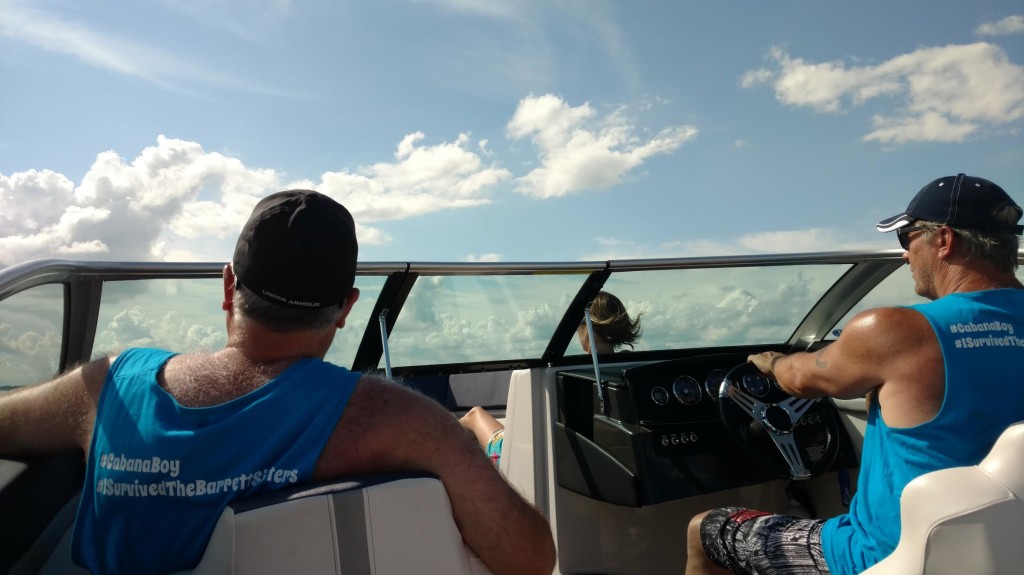 Our Captain and Co-Captain! They Kept Us Safe and Also Showed Us a Great Time on Lake Texoma! Thank You, Rob and Phil!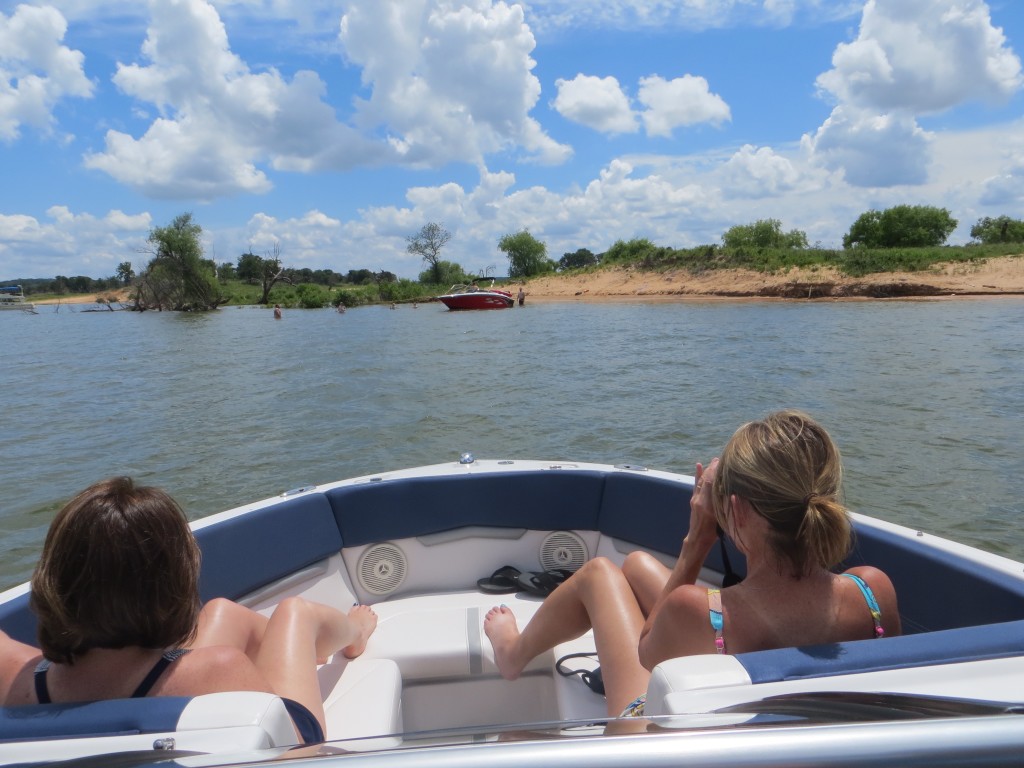 Aren't They Lovely? Kathy and Susan Enjoying the Ride in the Bow of Pilar