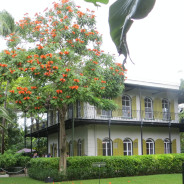 "All you have to do is write one true sentence. Write the truest sentence that you know."
~Ernest Hemingway
Rob and I recently imbibed in a glorious Key West vacation. This was my second trip to the southernmost mecca and for Rob, one of many. This cultural dichotomy and intriguing island melds young and old, touts the hip and historical, and encourages relaxed and gregarious activities and entertainment.
Of sites we intentionally revisited, we chose the home of world-renowned author and sometimes controversial personality, Ernest Hemingway. Our writers' hearts sung as we traipsed through the many rooms: living, kitchen, bedroom and on through to Hemingway's writing quarters where he is known for standing up and writing.
The architecture and history, the arched windows and high ceilings, the plushness of the gardens, the six-toed cats and the overall charm and ambience of the historical venue captivated us. Integral to Hemingway's reputation, though, is his eloquent, yet concise writing style.
While Hemingway's multiple romances and marriages leave some questioning his character, you cannot help but to get swept up when reading the love letters between him and various love interests–some whom he romanced, others whom he eventually married.
The Value of Letters In Telling Your Story
Jennifer Howard, author of Letters From Papa: An Unexpected Hemingway Emerges From His Correspondence quoted Patrick Hemingway, "To know what Ernest Hemingway was really like, don't read biographies of him. Read his letters."
Moreover, it seems Hemingway's writing gift also translated into tailored, idiosyncratic and lively conversational letters to friends, family and colleagues.
Howard continues by referencing the 'off-the-cuff-feel' of Hemingway's letters where he urged correspondents to 'screed' him (to write him back), calls friends and siblings 'kid' and 'old bean' and refers to his typewriter as, 'the typer.'
He addressed letters to his beloved last wife, Mary Welsh with, "My Dearest Pickle," according to an article in the ABC News, Letters Show Hemingway as 'Besotted Lover.'
"I want to serve you well and true the way some very dull people want to serve their country and even sadder people want to serve their God. But sometimes are very happy at it," he wrote to her. "You're a very small god with a face that breaks my heart."
Vigorous Writing Impacts Emotion and Intellect
Vigorous writing that elicits love, hope, desire, warmth, affection, intellectual enthusiasm and inspiration is at the soul of impactful letters, and specifically what I have encountered in reading Hemingway's personal correspondence.
As quoted in Critical Essays, Hemingway's Writing Style, Hemingway describes his own writing this way: "A writer's style should be direct and personal, his imagery rich and earthy, and his words simple and vigorous. The greatest writers have the gift of brilliant brevity, are hard workers, diligent scholars and competent stylists."
And he admitted to taking great pains with his work, "pruning and revising with a tireless hand," in order to "burnish (the creations) until they become brilliants."
Refill the Writer's Well Through the Hemingway Journey
The essence of stories that are told through rigorously and vigilantly shaped content is powerful. The writer's well for inspiration is never quite full, and in particular, those of us who write stories for a living must work tirelessly to maintain our muse. Visiting Ernest Hemingway's estate and then following up with further research on this bigger-than-life author has been an inspiring journey that I began in 2010, restarted in 2014 and plan to continue for many years to come!
~~~
By Jacqui Barrett-Poindexter | Writer and Partner, I Want To Write For You